Paramaribo Travel Guide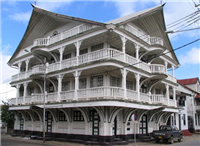 Suriname's quiet, unassuming capital of Paramaribo is one of South America and the Caribbean's true hidden gems. A vibrant city with an interesting Dutch heritage, modern-day Paramaribo is a proudly multi-cultural place, with its 250,000-strong population being comprised of citizens of Indian, African, Javanese, Chinese and Dutch descent; and with cathedrals, synagogues, temples and mosques existing side by side in perfect harmony. The great attraction of Parbo (as it's known) is its historic inner city, an area home to a wealth of beautiful and iconic Dutch-colonial buildings, that have earned Paramaribo the nickname of 'the wooden city of the Caribbean'. Along with these incredibly photogenic buildings, visitors to Paramaribo can admire austere Dutch forts (such as Fort Zeelandia) and the St Peter and Paul Cathedral, the tallest wooden building in the western hemisphere. Parbo is also home to a bustling Central Market, where souvenirs and delicious local treats can be bought, and a lovely Waterkant (waterfront) area, the perfect place to grab a fresh-fruit cocktail and watch the sun sink over the Suriname River.
Become our Paramaribo Travel Expert
We are looking for contributors for our Paramaribo travel guide. If you are a local, a regular traveller to Paramaribo or a travel professional with time to contribute and answer occasional forum questions, please contact us.