Paramaribo Travel Guide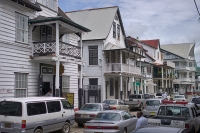 Paramaribo Street © Rob Oo
Suriname's quiet, unassuming capital of Paramaribo is one of South America and the Caribbean's true hidden gems. A vibrant city with an interesting Dutch heritage, modern-day Paramaribo is a proudly multicultural setting. Its 250,000-strong population comprises citizens of Indian, African, Javanese, Chinese, and Dutch descent, with cathedrals, synagogues, temples, and mosques existing side by side in harmony.
The great attraction of Parbo (as it's affectionately known) is its historic inner city, an area home to a wealth of quaint wooden Dutch-colonial buildings that have earned Paramaribo the nickname 'the wooden city of the Caribbean'.
Along with these wonderfully photogenic buildings, visitors to Paramaribo can admire austere Dutch forts (such as Fort Zeelandia) and the St Peter and Paul Cathedral, one of the tallest wooden buildings in the western hemisphere. The lovely Waterkant (waterfront) area is the perfect place to grab a fresh-fruit cocktail and watch the sun sink over the Suriname River.
In many ways, a visit to Paramaribo's Central Market is the easiest way to experience the wonderful multiculturalism of this fascinating city. The Central Market, which sprawls along the pretty Waterkant (waterfront) area of the city, is a busy, frenetic place, with three distinct sections all boasting their own unique sights, smells and sounds. For foreign visitors, the most culturally interesting section of the market is the Maroon area, with its bones and feathers, exotic animals, and assortment of traditional medicines and tonics for sale.
Even if you don't end up buying anything, this area is certainly worth a look and, in all likelihood, a photograph or two. The Asian and Indian section of the market sells cheap goods and clothing, and a heady selection of spicy snacks and beverages. The last section of the market is the clamorous outdoor fish market, where fisherman unload their boats in the centre of the action and fresh seafood can be picked up for extremely reasonable prices.
Become our Paramaribo Travel Expert
We are looking for contributors for our Paramaribo travel guide. If you are a local, a regular traveller to Paramaribo or a travel professional with time to contribute and answer occasional forum questions, please contact us.