Malmo Travel Guide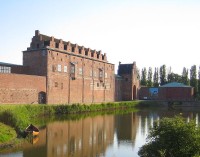 Malmo Castle © Jorchr
Sweden's third largest city, Malmö is a busy port that has alternated between Swedish and Danish control throughout its 900-year history. It's location at the southern tip of Sweden, and close proximity to Copenhagen, contribute to its reputation as the most diverse and cosmopolitan city in Sweden. Visitors to Malmö enjoy a mixture of Swedish heritage and diverse culture in the form of cuisine, music, art and festivals.
Downtown Malmö is centred around three public squares, which boast unique attractions. At Big Square you'll find beautiful buildings and statues dating back to the 16th century, Little Square has a number of bustling restaurants that spill out onto the pavement, and Gustav Adolf's Square has great shops and is a good place to access the pretty Slottsparken Park.
There are a number of attractions in Malmö for sightseers, including museums dedicated to technology and art; beautiful churches such as St Peter's Church, St Johannes Church and the Malmö Synagogue; historical buildings including Malmöhus Castle and City Hall (Radhuset); and interesting modern buildings like the Turning Torso skyscraper. The City has many public parks as well: Pildammsparken and Kungsparken are tranquil and nice for a picnic, while Folketsparken has a small amusement park with rides and other attractions. Malmö's beaches are also very popular during the summer months.
Sightseeing and shopping intertwine in Malmö's diverse neighbourhoods. Just south of the city centre, Möllevångstorget Square is the centre of an Asian and Middle Eastern neighbourhood with many shops and restaurants, and an open-air market on weekends. Gamla Väster has a number of sophisticated boutiques and galleries. The main shopping plazas include HansaCompagniet, Triangeln, and Caroli.
Malmö's restaurant scene and nightlife reflect its cosmopolitan reputation, with cuisine from all over the world represented and a wide array of pubs, nightclubs and bars to choose from. Lilla Torg is the centre of Malmö nightlife, but Möllevångstorget is the area to try if you're on a budget.
Only 35 minutes' journey from Denmark, Malmö is closer to Copenhagen than it is to the other major cities in Sweden. It comes as no surprise that Malmö is a popular stop on any Scandinavian holiday, and thousands of visitors each year fall in love with this unique city.
Become our Malmo Travel Expert
We are looking for contributors for our Malmo travel guide. If you are a local, a regular traveller to Malmo or a travel professional with time to contribute and answer occasional forum questions, please contact us.