Stockholm Travel Guide
Why? Endless summer days, wild party nights, miles of waterways, gourmet restaurants, superior shopping, fun-fairs and parks, a medieval enclave…these are just some of the ingredients that go to make a holiday in Stockholm one of the trendiest and memorable you will ever experience. It is a city where 'F' stands for fun, fashion, ferries and fairy-tales.
When? A city for all seasons, a holiday in Stockholm is to be enjoyed at any time of year. Sun-lovers are best advised to travel to Stockholm during summer, when days extend well into the night and the pavement cafes remain bathed in sunshine for almost 24 hours. In winter the chill and darkness sets in, but that is when it is possible to retreat to the cosy pubs, gourmet restaurants and dozens of museums, or don your skates and skim across the frozen waterways.
Who for? Stockholm is definitely a city that is young at heart, and a Stockholm holiday is thus ideal for young, affluent fun-seekers. It is also a romantic city and honeymooners can fill their album with snaps of a memorable holiday in Stockholm.
More Info: Take a virtual holiday in Stockholm to whet your appetite on our Stockholm travel guide, and then print out the guide to plan your Stockholm holiday. The guide is invaluable to ensure you make the most of your trip when you travel to Stockholm, featuring attractions, events, excursions and restaurant recommendations, as well as how to get around the city.
---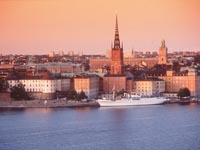 View of Stockholm © Preben Kristensen
The Swedish capital, Stockholm, is not only Scandinavia's largest city but also its most enchanting, with its centuries-old alleyways and squares being spread across an archipelago of 14 islands. Locals are extremely proud of the fact that here one can go ocean-fishing in the heart of the city.
This historic metropolis with a small town heart also boasts a multitude of museums, restaurants, parks, fun fairs, a never-ending nightlife (licensing hours extend until 5am) and a rich cultural tradition. It all adds up to 'never a dull moment', particularly in the summer when the sun virtually never sets because of its position in the far northern latitudes.
Most tourists are initially drawn to the quaint Gamla Stan (old town), a warren of narrow cobbled-stone streets overshadowed by historic houses, radiating out from the sumptuous Royal Castle where Swedish monarchs have resided since the 13th century. Despite the medieval heritage, Stockholm is no staid, old-fashioned enclave. Citizens have developed a reputation for being trendy, daring and innovative, especially in the global realms of IT and fashion, often setting the pace in the design and technology fields.
Stockholmers are also immensely concerned with the environment, and the city-scape is made up of one-third water, one-third green space, one-third buildings and the cleanest air of any city in the world. Take a deep breath, pack a picnic, hop aboard a ferry, and make for one of the parks where you will undoubtedly be treated to a free concert; or head for the legendary shopping districts of Biblioteksgatan (exclusive European boutiques), Odengatan (antique treasures), and others. There is culture to be soaked up too, with more than 150 museums to visit, art festivals galore, architecture to be admired (including the beautiful City Hall where the Nobel Prize banquet takes place), and a world-renowned opera or jazz concert to attend.
It may be old, but Stockholm is a destination for the young and energetic, as yet not over-run with tourists like many other European capitals.
Become our Stockholm Travel Expert
We are looking for contributors for our Stockholm travel guide. If you are a local, a regular traveller to Stockholm or a travel professional with time to contribute and answer occasional forum questions, please contact us.