Zurich Travel Guide
Why? Set beneath snow-clad peaks on the shores of a glittering lake, a holiday in Zurich will move you not only with its typical Swiss neatness but also with its scenic setting. Quality oozes from the boutiques and along the promenades in this global financial centre, but after dark the sober bankers prove they can let their hair down in the dozens of bars, clubs and restaurants that thrive in the city.
When? The best time to travel to Zurich for a holiday is during the height of summer, in July and August, when the best weather is experienced. Spring and autumn are also good times to holiday in Zurich, but winter is cold, overcast and damp.
Who for? Sophisticated tourists and travellers who appreciate the finer things in life, from chocolate to scrupulously clean pavements, will savour a Zurich vacation.
More Info: To whet your appetite for a holiday in Zurich, and help plan your visit, take a look at our Zurich travel guide which lists the major attractions, excursions and events to be enjoyed in the city, as well as providing information about Zurich's efficient public transport and recommendations for the best restaurants.
---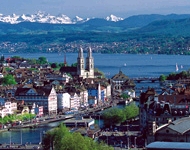 View Of Old Town © Zurich Tourismus, www.zuerich.com
While browsing in the elegant boutiques along Zurich's Bahnhofstrasse, one of the most beautiful shopping areas in Europe, you'll notice that the streets may not be paved with gold, but you can be certain that a couple of metres below, unimaginable treasures are lying in underground vaults.
Zurich is the world's banking capital, but as well as being a city of fat cats parading in pin-stripes, glued to their mobile phones and swinging patent leather briefcases, you'll also discover that this is the city that gave birth to the avant-garde Dadaist movement, and where James Joyce wrote Ulysses. The city's Museum of Fine Arts houses one of Europe's most extensive collections, from 15th century religious iconography to the modern art works of Dali, Arp, Hockney, Cezanne, Monet, Gaugin, Munch and Picasso.
Visitors can spend days exploring Zurich's cobbled streets, wandering through its museums, exploring its flea markets or walking away with free gifts from its chocolate factories. The quays, with their promenades, are made for walking, especially along the shores of the lake. Zurich also boasts an active café culture that's ideal for people-watching, and a lively, multi-ethnic population to rival any other major European city. The exacting order of the Swiss, with their passion for neatness and precision, may create an impression of rather a prim and staid society, but visitors will discover quite the opposite when exploring Zurich's nightlife. With more bars, clubs and restaurants than you can shake a stick at, as well as a calendar packed full of street parades and festivals, a holiday in Zurich can exhaust even the most energetic party animal.
Become our Zurich Travel Expert
We are looking for contributors for our Zurich travel guide. If you are a local, a regular traveller to Zurich or a travel professional with time to contribute and answer occasional forum questions, please contact us.
iExplore designs made-to-order, privately-guided adventure tours to Switzerland and over 200 other world wonders. Come Back Different!
ADVERTISEMENT
---
Intrepid Travel, one of the world's leading suppliers of small group adventures is focused on getting off the beaten track, interacting with locals and having real life experiences throughout Switzerland.
ADVERTISEMENT
---