Aleppo Travel Guide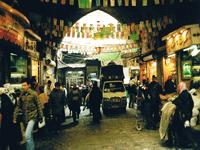 Aleppo souq © Judith Duk
Aleppo is a fairly conservative Muslim city, with residents dressed modestly and the sound of the muezzin audible from every part of town five times per day. The city has a pervading sense of history, with donkey-drawn carts and sidewalk vendors lining the winding streets of the UNESCO-recognised Old City.
The best time to visit the Old City is in the morning, before it gets too crowded. Many historical buildings are worth visiting for the history buffs among visitors, including the Great Mosque, the Citadel, Saint Simeon's Basilica, and the Bimaristan Arghan.
Aleppo's souqs are also one of its most popular attractions, and bargain-hunters can find anything from gold and silver jewellery to carpets, clothes, and olive oil soap. Aleppo is famous for its intricate wood inlay boxes, and these make great souvenirs.
Other than the Old City, Aleppo has two major sections: the New City and Al-Jdeida (the Christian Quarter). The New City is a distinctly underwhelming sight with its dreary Soviet-style apartment blocks and wide streets; however, Al-Jdeida is a pleasant area with excellent restaurants and the Museum of Popular Arts and Traditions.
Just outside of Aleppo is a UNESCO-recognised group of historical sites and villages, numbering about 700, that are known as the Dead Cities. These settlements make a fascinating day excursion from Aleppo, including notable archaeological sites like the Saint Julianus Maronite Monastery, the ancient city of Cyrrhus, and the Kalota Castle.
Become our Aleppo Travel Expert
We are looking for contributors for our Aleppo travel guide. If you are a local, a regular traveller to Aleppo or a travel professional with time to contribute and answer occasional forum questions, please contact us.