Damascus Travel Guide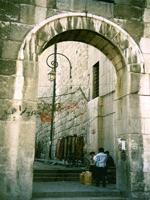 Damascus © Judith Duk
One of the most interesting places for travellers is the capital city of Damascus, brimming with history as one of the oldest continuously-inhabited cities in the world, where the enormous Umayyad Mosque, Roman walls and gates, biblical sites and bustling markets hold visitors in a spell of fascination.
The wealth of historical sites date back to the many different periods of the city's history, where mosques, churches, the old city walls and ancient souqs testify to the occupation of Greeks and Romans, Persians, Christians, and the Islamic Umayyad Empire. Biblically speaking, Damascus was once the capital of the Aramean Kingdom in the 11th century BC, and was where many centuries later the apostle Paul was converted to Christianity and started the early church. The city's most glorious days, however, were as the capital of the Umayyad Empire, and many of its monuments are still the pride of Damascus today. The Umayyad Mosque, or Grand Mosque of Damascus, is one of the biggest in the world, its interior covered from wall to wall with beautiful thick carpets and richly decorated with ornate inlays and designs. Unfortunately heavy fighting and battle in the Syrian Civil War has left the holy site in ruins, but it can still be admired for what it respresents, despite its current state.
The place to get to grips with present-day Damascus is in the souqs (covered markets), the largest and most famous dating back to 1863, where haggling for inlaid mosaic boxes, chessboards, jewellery and hookah (hubble-bubble) pipes is all part of the experience. Cries of 'need a carpet/kilim/scarf?' or 'just one minute to look and looking is free' will assault visitors along with the fragrant scent of spices, and the sight of colourful merchandise spilling out onto the thoroughfares.
Become our Damascus Travel Expert
We are looking for contributors for our Damascus travel guide. If you are a local, a regular traveller to Damascus or a travel professional with time to contribute and answer occasional forum questions, please contact us.