Taipei Travel Guide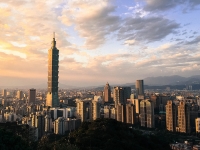 Taipei © David Hsieh
Taipei, the capital of the island nation of Taiwan, is hot, crowded, chaotic and cosmopolitan, one of the Asian 'tiger' cities that throbs with life day and night. The city skyscrapers reach up from a basin in the north of Taiwan, which is separated from the Chinese mainland by the narrow Formosa Strait. For decades the recognition of the independence of Taiwan has been an issue domestically and internationally, and the dispute is still simmering.

Taipei itself has grown from a swampy farming settlement into a modern metropolis in an extraordinarily short time, most of this development having taken place since World War II. The latest engineering feat to grace the city's ever-rising skyline is the soaring Taipei 101 tower (so-named because of its 101 floors), which not only serves as an amazing tourist attraction for those with a head for heights, but is also the city's international financial centre.

Down on the ground the districts of Taipei swarm with a conglomeration of cultures going about their business in streets choked with unruly traffic. The city is packed with excellent restaurants (it is renowned among gourmands), magnificent hotels, glitzy shopping malls, wonderful museums, temples, spas and peaceful gardens. As the sun goes down the night markets open up, usually packed with tourists and bargain-hunters who throng the alleyways in the heavy, humid night air.
Taipei is also crammed with bars and nightclubs, and its red light district in Zhong Shan is one of the most legendary in Asia. When the city becomes too stifling, visitors can head for the hills to the north west to relax at one of the spas built to utilise the Bei Tou area's hot springs, or take a hike through the Yang Ming Shan National Park.
Become our Taipei Travel Expert
We are looking for contributors for our Taipei travel guide. If you are a local, a regular traveller to Taipei or a travel professional with time to contribute and answer occasional forum questions, please contact us.