Austin Travel Guide
Why? The main attraction which draws people to holiday in Austin, capital of Texas, is its vibrant live music scene. The city boasts more music venues than any other city in the country, most centred on famous 6th Street. Anyone who decides to travel to Austin will be rewarded with a young vibe in this city where parties are the norm and eccentricity rules. Austin is also a good place to go to pick up works of art from the many street art markets.
When? The weather is not a factor in deciding when to holiday in Austin because it is generally good all year round. Rather, visitors planning to travel to Austin are advised to check the calendar of music events to ensure they do not miss their favourite artists or major annual music festivals. A good time to visit for party animals is during the annual Carnaval in February.
Who for? Live music afficionados are, obviously, the people most likely to enjoy an Austin holiday. The city does, however, also cater for those who enjoy outdoor pursuits like biking and hiking, and will reward hungry shoppers with some quirky street markets. For families who travel to Austin there are plenty of entertaining recreational opportunities at Zilker Park.
More Info: Our comprehensive Austin travel guide is updated frequently and gives current, comprehensive details of all the attractions and events for those planning to travel to Austin.
---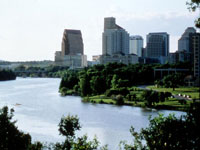 Austin skyline © Austin CVB
Capital of Texas, the city of Austin lies almost in the centre of the state, a big city with a small town feel, young population, casual lifestyle and reputation as a Mecca for live music shows.
Home of the University of Texas campus, Austin life is closely entwined with the energy and enthusiasm of its students, but this city that has been a state capital since 1838 does not ignore its history. Young people are drawn here too by the array of live concerts that are held frequently around the shores of Town Lake. Most famous of these events is the annual South by Southwest music festival-conference held each March. Visitors wanting to tune in to Austin's live musical repertoire, which spans everything from blues and country to reggae, simply have to drift down the famous Sixth Street strip of pubs and clubs any night of the week.
Austin's laid-back attitude lends itself to the great outdoors, and the city has miles of hiking and biking trails linking parks, preserves and greenbelts adding to the ambience of its leafy streets.
Become our Austin Travel Expert
We are looking for contributors for our Austin travel guide. If you are a local, a regular traveller to Austin or a travel professional with time to contribute and answer occasional forum questions, please contact us.