United States of America

---

---

---

---
Galveston Travel Guide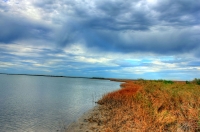 Galveston Island State Park © Yinan Chen
The island city on the Gulf Coast, linked to the Texas mainland by a causeway, Galveston has survived the USA's deadliest natural disaster to become one of the country's hottest tourist destinations, and a favourite port of call for hundreds of cruise liners. Offering miles upon miles of beautiful beaches, some of the country's most superb restaurants and seafood, art galleries, antique stores, lively entertainment, a fantastic portfolio of Victorian architecture and some fascinating attractions, there is possibly no better place to step ashore and become a land-lubber.
It is hard to believe that in 1900 Galveston was all but devastated by a hurricane, which claimed around 10,000 lives. Fortunately most of the historic buildings on the east end of downtown survived, and today the city is protected by a sea wall built post the disaster. The wall now safeguards a compact city that most locals declare they need never leave, because they have it all, right here in Galveston. Galveston citizens are only too pleased to welcome visitors to their wondrous city, and in fact they have produced countless attractions to suit all tastes, from fascinating museums to harbour tours with dolphin watching; excellent theatre to a unique fun family waterpark and a paradise for shop-a-holics.
The city's events calendar bursts with fun too, with an annual Mardi Gras, the famed Jazz and Blues Festival, a beach festival, bike rally and Victorian-styled Christmas festival, most taking place on The Strand, which is Galveston's hub of entertainment and fun. Even getting around Galveston is fun, whether it be on a horse-drawn carriage, aboard the 'Treasure Isle Tour Train' or a paddlewheel steamer.
Become our Galveston Travel Expert
We are looking for contributors for our Galveston travel guide. If you are a local, a regular traveller to Galveston or a travel professional with time to contribute and answer occasional forum questions, please contact us.