United States of America

---

---

---

---
Houston Travel Guide
Why? The main reason many choose to holiday in Houston is to visit the Johnson Space Center: NASA's mission control from where the space shuttle programme is directed. Houston, as a high-rise metropolis, has plenty more to do and see in its packed downtown area, and the beaches at Galveston are not far away for those who need to cool off.
When? A summer holiday in Houston is not for the faint-hearted because the city swelters in soaring temperatures and very high humidity. It is literally possible to fry an egg on the pavement. This of course means that winters are mild and a good time to travel to Houston, and early spring is the best time of all, between February and April.
Who for? Those who will enjoy a holiday in Houston are those who enjoy exploring modern cities of towering glass and steel, for the top shopping, tasty Tex-Mex cuisine and an eclectic collection of museums.
More Info: The Wordtravels Houston travel guide is the definitive information resource for a holiday in Houston. Packed with detailed, up-to-date facts and figures, the guide can be printed out and carried with you when you travel to Houston.
---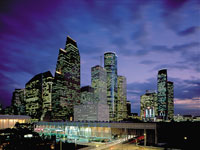 Houston skyline © Greater Houston CVB
The massive metropolis of Houston, sprawling across the Gulf Coast plain of East Texas from its busy port, is almost twice the size of the entire state of Rhode Island. Even with this heavy urban concentration, though, Houston is green and lush, sited at the end of a belt of forest coming down from the north, and characterised by marshlands and bayous lined with cypress trees in the southern reaches.
Houston, named after former Republic of Texas president Sam Houston, is hot and humid. To make life more bearable in the close-packed downtown area much activity has gone underground. The city centre sports an air-conditioned seven-mile (11km) pedestrian tunnel system full of restaurants and shops. Unlike most cities, downtown in Houston is the hub of residential development, so it remains busy and bustling long after dark.
Texas' largest city is not generally a sought after tourist destination, being concerned more with business than pleasure and leisure. Computer manufacture, gas and oil, and a huge concentration of medical institutions account for most of the economic activity, but all those hard-working citizens have to play sometimes, and there are some good attractions like excellent museums, the amazing Astrodome sports pavilion, some wonderful theatres and, thanks to the cosmopolitan mix of its residents, some ethnically diverse cuisine on offer in its many restaurants and neighbourhoods. For visitors the absolute 'must-see' in Houston is the famed Space Center mission control for the US space programme.
Become our Houston Travel Expert
We are looking for contributors for our Houston travel guide. If you are a local, a regular traveller to Houston or a travel professional with time to contribute and answer occasional forum questions, please contact us.