Bangkok Travel Guide
Why? Travel to Bangkok, the overcrowded capital of Thailand, and it is like throwing yourself into a mad melee of a metropolis, decadent and often squalid, but extremely traveller-friendly. Locals welcome those who holiday in Bangkok with wide smiles, and amid all the chaos and congestion there are hidden gems to discover. Bangkok is also the gateway to Thailand's legendary beach resorts and is ideal for those travelling on a budget.
When? The best time to travel to Bangkok is between November and February, although with its tropical climate a Bangkok holiday offers high humidity and temperatures all year round. It is best to avoid the hottest months of March, April and May, and the rainy season between June and October.
Who for? A Bangkok holiday is particularly popular among young backpackers, simply because they are catered for in many cheap hostels. There is, however, a vast array of accommodation to suit all budgets in this tourist-oriented city. Travel to Bangkok if you enjoy a taste of the east, and enjoy soaking up the sun on beautiful beaches.
More info: Our Bangkok travel guide, filled with important information including entry requirements, details of attractions and safety information, is a valuable resource for anyone planning to travel to Bangkok.
---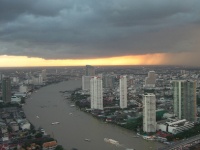 View from Lebua State Tower © Swami Stream
Chaotic, carnal and congested, Thailand's capital is divided by the Chao Phraya River and is nestled in one of the world's most fertile rice-producing deltas. Bangkok's 579 square miles (1,500 sq km) are criss-crossed by a series of canals carrying passengers and cargo, its roads clotted with endless traffic jams, while the city sprawls in all directions with a hodgepodge of urban, commercial and industrial buildings. A new overland metropolitan railway speeds above the city, providing visitors with a relaxed and efficient way to observe the hustle and bustle below.
Despite its pollution and overcrowding, Bangkok is undoubtedly one of Asia's most exciting cities, and one of the world's largest, promising to reveal to each traveller the wild and untamed mysteries of the east. Khao San Road is one of the city's most vibrant streets, and is probably one of the best examples in the world of a backpacker's 'ghetto'. Day and night the short stretch of road is abuzz with activity. On the banks of the Chao Phraya visitors will find the Grand Palace as well as Wat Phra Kaew, the palace temple housing the Emerald Buddha, constructed entirely from translucent green jade. Slightly upriver are the exquisitely ornamented Royal Barges, still used today for special floating processions.
Of the 30 or so temples in Bangkok, the largest is the Temple of the Reclining Buddha, which houses an impressive statue of the deity. The famous Floating Market is a delight to visitors and well worth a visit. As the sun lurches towards the horizon in the west and the sweat cools, this city of royalty and religion comes alive with a palpable decadence. Music and dazzling neon advertise a miasma of trendy bars and nightclubs, as well as the notorious 'girlie joints' that have ensured the Patpong district its reputation for hedonism.
Though the city's frenetic pace and infamous congestion can be overwhelming, a holiday in Bangkok is a must for anyone travelling in Thailand.
Become our Bangkok Travel Expert
We are looking for contributors for our Bangkok travel guide. If you are a local, a regular traveller to Bangkok or a travel professional with time to contribute and answer occasional forum questions, please contact us.
iExplore designs made-to-order, privately-guided adventure tours to Thailand and over 200 other world wonders. Come Back Different!
ADVERTISEMENT
---
Intrepid Travel, one of the world's leading suppliers of small group adventures, is focused on getting off the beaten track, interacting with the locals and having real life experiences throughout Thailand.
ADVERTISEMENT
---
Island hopping to hidden paradise. Sleep in floating huts and follow Khao Yai jungle trails. Build your own Thailand trip.


ADVERTISEMENT
---