Chiang Mai Travel Guide
Why? A holiday in Chiang Mai is an essential element of any visit to Thailand. This ancient city, with a cooler climate and greener aspect than frenetic Bangkok, is set in the foothills of the Himalayas, and is known for its elephant-back safaris, magnificent temples and famed Night Market. This popular tourist destination also has plenty of other attractions to enchant visitors, from orchid farms to puppet shows.
When? Like elsewhere in Thailand, a Chiang Mai holiday is a hot experience weather-wise. Chiang Mai though is slightly cooler and less humid than Bangkok, especially between November and May when cooling winds blow through the city, ensuring warm to mild days and making this a good time to travel to Chiang Mai. December and January are on the chilly side.
Who for? Travel to Chiang Mai is for anyone who thinks they would enjoy an entertaining and interesting taste of Thailand. A vacation in Chiang Mai appeals to anyone who is intent on learning about an oriental culture or wishes to learn about Thai cooking at the local cookery schools.
More Info: Before you embark on a holiday in Chiang Mai make sure you consult our comprehensive Chiang Mai travel guide, which is full of useful information about attractions, excursions and events, as well as listing basic information like entry requirements and health and safety advice.
---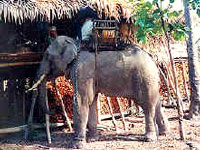 Elephant trekking © Chiangmai-vacation.com
Chiang Mai is Thailand's second largest city, and an excellent starting point for excursions into the northern territories. Its name means 'new city', even though Chiang Mai is much older than Bangkok, having been built in 1296 under the rule of King Mengrai. The city straddles the gap between urban and rural Thailand, and offers the best of both worlds in terms of attractions and activities for Thailand tourists.
While Chiang Mai has more than 300 ancient temples, including the one at Doi Suthep, which offer breathtaking views over the area, its popularity is largely due to the elephant treks in the surrounding countryside. Travellers can also use Chiang Mai as a launching pad for excursions to the Lisu Hill-Tribe, Bhubing Palace, Isaan province, and Chiang Rai. Thai cookery classes are also a popular tradition, and the city also has an extensive night market, with dozens of street vendors selling a variety of traditional Thai wares that can be obtained at very low prices if you have the patience to bargain for them.
Chiang Mai is small enough to get around on a bicycle, has several attractions, and offers excellent accommodation, although tourists are advised that it can be difficult to find a room in peak season, between December and March.
Become our Chiang Mai Travel Expert
We are looking for contributors for our Chiang Mai travel guide. If you are a local, a regular traveller to Chiang Mai or a travel professional with time to contribute and answer occasional forum questions, please contact us.
iExplore designs made-to-order, privately-guided adventure tours to Thailand and over 200 other world wonders. Come Back Different!
ADVERTISEMENT
---
Intrepid Travel, one of the world's leading suppliers of small group adventures, is focused on getting off the beaten track, interacting with the locals and having real life experiences throughout Thailand.
ADVERTISEMENT
---
Island hopping to hidden paradise. Sleep in floating huts and follow Khao Yai jungle trails. Build your own Thailand trip.


ADVERTISEMENT
---