Ashgabat Travel Guide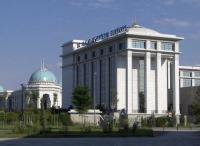 Ashgabat Museum © Ibrahim
The shining city of Ashgabat pokes up out of the desert in Turkmenistan like a mirage of white marble. The capital and largest city in Turkmenistan, Ashgabat has grown from a Russian village founded in 1881 to a metropolis with an estimated population of around one million people.
The distinctive white marble buildings of Ashgabat have earned it a place in the Guinness Book of World Records, and make it one of the most photogenic cities in the world. Some of its more stunning structures include the Ertugrul Gazi Mosque, the Alem Entertainment Center, and the Constitution Monument, however all are dwarfed by the 692-foot (211m) Turkmenistan Tower and its distinctive blue star, which can be seen from anywhere in the city.
The best view of Ashgabat can be had from the Turkmenbashi Cableway, a cablecar that climbs up more than 4,200 feet (1,280m).
Another popular attraction in Ashgabat is the city's theme park, World of Turkmenbashi Tales. Designed to be a national version of Disneyland, the park is based on Turkmen folk art and fairy tales and is a great place to enjoy thrilling rides and learn about local culture and history.
For those wanting to learn more about Turkmen culture, there are some excellent museums, including the Turkmen Carpet Museum, the National Museum, the Museum of Fine Arts, and the Museum of Turkmen National Values.
Despite its stately appearance, Ashgabat is a lively city, and visitors will find a wealth of markets, theatres, restaurants and shopping centres. Largely ignored by tourists, visitors will find a warm welcome and an unforgettable experience there.
Become our Ashgabat Travel Expert
We are looking for contributors for our Ashgabat travel guide. If you are a local, a regular traveller to Ashgabat or a travel professional with time to contribute and answer occasional forum questions, please contact us.