Carpathian Mountains Travel Guide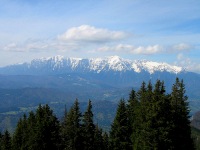 Carpathian Mountains © Gabriel
The slopes of the Carpathian Mountains in the Ukraine are both gentle and rugged, concealing forests, meadows, lakes, rivers, caves and picturesque mountain towns that are popular holiday destinations for tourists with an adventurous spirit.
Benefitting from a mild climate, outdoor sports are a way of life in the Carpathian Mountains, including hiking, cycling, and river rafting in summer, and skiing in winter. The countryside is pristine and unspoiled, and there is no end of spectacular vistas lying in wait for intrepid travellers. There is an abundance of wildlife like brown bears, wolves, lynxes and chamois, and numerous indigenous plant species to enjoy as well.
The small towns and villages in the Carpathian Mountains are treasures in themselves. Lviv, a UNESCO World Heritage City, makes a great base for exploring the region, and larger resorts like Dragobrat, Slavsko, Tysovets and Bukovel have all the modern amenities you could want.
The Carpathian Mountains are rich in history and tradition, as well as natural beauty. Discovering the attractions of a mountain holiday in Ukraine is an increasingly popular vacation idea, and thousands make the trip every year to see it for themselves.
Become our Carpathian Mountains Travel Expert
We are looking for contributors for our Carpathian Mountains travel guide. If you are a local, a regular traveller to Carpathian Mountains or a travel professional with time to contribute and answer occasional forum questions, please contact us.