Kiev Travel Guide
Why? As one of the world's oldest cities, a holiday in Kiev is packed with interesting sight-seeing opportunities in a setting that is unique and exciting for western visitors. There is a range of fascinating things to see and do, from the engrossing Chernobyl Museum to a cave monastery and the magnificent 11th century St Sofia cathedral.
When? Most like it hot, so the most popular time to travel to Kiev is during the warm summer months (July and August). A winter holiday in Kiev is a fun option for snow bunnies when the city becomes a snow-covered winter wonderland with the river frozen into an ice-skating rink.
Who for? Sight-seeing addicts who enjoy the challenge of a relatively fresh but historic destination will relish a holiday in Kiev, formerly part of the Soviet Union but now a confirmed and sought after destination in Eastern Europe. The city is suited to all budgets and has attractions to whet all appetites.
More Info: Ascertain all the useful information you need to know before you travel to Kiev from our up-to-date Kiev travel guide, which has details of attractions and excursions in the city as well as basic information like entry requirements, foreign exchange and business etiquette.
---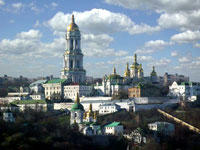 Kiev © R. Lezhoev
The striking Ukrainian capital of Kiev (or Kyiv) is one of Eastern Europe's oldest cities and its fortunes have risen and fallen with the tides of history. The city, once capital of Old Rus, is believed to date back to the 5th century and was a key player in the expansion of the medieval East Slavic nation, as well as serving as a major centre for trade between the Mediterranean and the Baltic.
By the 1200s, Kiev was one of the world's largest cities, but fell foul to invading Mongols in 1240, really only recovering in the 19th century during the Russian Revolution. Much of the city and its treasures were again damaged during World War II, but Kiev still boasts a rich cultural heritage and a range of spectacular attractions.
A plethora of museums, theatres, opera houses, historical buildings and gardens are to be found, laid out on either side of the picturesque Dnieper River. The western bank is home to the older part of the city and was, pre-urbanisation, characterised by its forested hills, as well as steep ravines and winding rivers, which serve as ice-rinks in winter. Watched over by a statue of the historic protector of Kiev, Michael Archangel, the city also boasts a successful blend of the old and the new. Modern buildings nestle against historical gems and cultural wonders rub shoulders with trendy, buzzing nightclubs, bars and restaurants.
Any visit to the Ukraine is bound to start with an exploration of its capital, and visitors will need to ensure they give themselves ample time to explore all it has to offer. From the Golden Gate of Kiev, built in 1037, to a funicular ride up the steep western bank, Kiev has something for all tastes and certainly will not disappoint.
Become our Kiev Travel Expert
We are looking for contributors for our Kiev travel guide. If you are a local, a regular traveller to Kiev or a travel professional with time to contribute and answer occasional forum questions, please contact us.