United Arab Emirates

---

---

---

---

---

---

---
Al Ain Travel Guide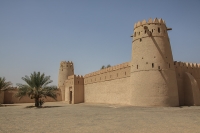 Fort Al Jahili © Dr. Norbert Heidenbluth
The merge of ancient and modern Arabic culture is no more evident than in the fascinating city of Al Ain, about 100 miles (160km) east of Abu Dhabi (near the Omani border with Buraimi). This historic, scenic oasis is surrounded by red sand dunes and dominated by a vast mountain range in the eastern UAE.
Founded around 3,000 BC, Al Ain was an important oasis along caravan routes between Oman and the UAE. The oasis itself consists of thousands of date palms, now located near the main souq downtown. Fed by underground hot springs that bubble to the surface in the Green Mubazzarah recreation area.
Al Ain's heritage is still evident in the bustling camel market, located near the Meyzad border crossing. Hundreds of camels are bought and sold each day, and traders are very friendly to tourists. The Al Ain Museum and Fort is another historical attraction worth visiting in Al Ain, with exhibits depicting daily life in ancient Arabia.
Al Ain is also a modern city, filled with luxury resort hotels and shiny shopping malls. An exciting theme park, the renowned Al Ain Zoo, and an Olympic-sized ice rink are just a few of the popular attractions in Al Ain, known as the 'Garden city of the Gulf' because of its tree-lined boulevards and green public spaces.
Become our Al Ain Travel Expert
We are looking for contributors for our Al Ain travel guide. If you are a local, a regular traveller to Al Ain or a travel professional with time to contribute and answer occasional forum questions, please contact us.