United Arab Emirates

---

---

---

---

---

---

---
Dubai Travel Guide
Why? If you live in superlative mode, a holiday in Dubai will fit the bill. Almost surreal in its high-rise glory, travel to Dubai for shopping, partying, fun in the sun, and fine dining. Experience a taste of luxury in this United Emirates showpiece that has it all, but come armed with plenty of 'plastic money' and a determination to enjoy yourself in a true Arabian pleasure dome.
When? The best time to travel to Dubai, which is blisteringly hot for most of the year, is during the cooler months between November and April, but even if you can't avoid the heat, you will find most buildings are well air-conditioned. The Emirates, of which Dubai is part, are devoutly Muslim so as a Westerner it is best to avoid the month of Ramadam when strict religious rules against eating, drinking and smoking during daylight hours apply.
Who for? In a word, there is one main attraction for those who travel to Dubai, and that is shopping! The glitzy malls capitalise on the city's tax-free status, and shopping quickly becomes an addiction for visitors, even if that is not why they came to holiday in Dubai in the first place. A close second attraction is the incredible beaches and stunning resort hotels, which are shrines for sun-lovers.
More Info: It is easy to travel to Dubai with the help of our detailed Dubai travel guide, which provides all the information required to ensure an unforgettable holiday in Dubai.
---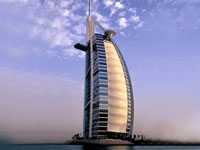 Burj Al Arab Hotel, Dubai © DTCM
Originally a small fishing settlement that became a busy port of call on the ancient trade route between Mesopotamia and the Indus Valley, the emirate was rapidly transformed into an international business centre and modern tourist destination following the discovery of oil in 1966.
Today Dubai ranks as the country's foremost commercial centre, a city whose skyline is constantly being upgraded with new developments providing the infrastructure and facilities needed for a progressive society, including world-class hotels, shopping plazas and outstanding sports facilities. Dubai Creek divides the city centre into two parts: Deira on the northern side and Bur Dubai to the south and each has its fair share of souks, restaurants, hotels, shopping malls and fine mosques.
From within these high standards of luxury and convenience, visitors can experience exotic Arabia in the bustling souks or a night in a Bedouin tent with belly-dancing under the starlit desert skies, as well as a way of life that is still embedded in the Islamic traditions of an ancient land. Dubai's attraction lies in the contrast between the ultra modern and the enchantingly traditional, which gives the city a personality like no other and visitors a variety of experiences to choose from. From desert oases and unspoiled beaches, camel races and old wind towers, to top-class shopping opportunities, avant-garde architecture and the finest international cuisine, Dubai has more than enough depth to satisfy even the most seasoned of travellers.
One of the city's top attractions is its excellent shopping. As an open port with low import duties, Dubai can offer an incredible range of top brand names at cheaper prices due to the tax-free environment, and 'shopping tourists' are drawn from around the world to this paradise of malls, souks, boutiques and modern department stores selling everything from Paris fashions to Japanese electronics. The annual Shopping Festival attracts millions of tourists to the city for a shop-till-you-drop holiday.
Become our Dubai Travel Expert
We are looking for contributors for our Dubai travel guide. If you are a local, a regular traveller to Dubai or a travel professional with time to contribute and answer occasional forum questions, please contact us.