Montevideo Travel Guide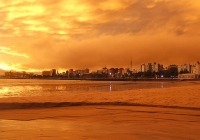 Montevideo Skyline © Vince Alongi
From the air the city of Montevideo, capital of Uruguay, sprawls as a grey morass across the wide Rio Plata estuary where two vast rivers, the Parana and Uruguay, enter the Atlantic, often churning the sea with coffee-coloured silt. Water is the reason for Montevideo's existence, and the means of its livelihood, with an extremely busy working harbour where cargo ships constantly come and go and cranes reach into the sky.
The site was originally a native Indian settlement, 'discovered' by a Portuguese explorer in 1516. A colony was not established until about a century later, and was eventually taken over by the Spanish who stormed the Portuguese fort in 1724. The Spanish formally founded the city in 1726, and in 1828 Montevideo became the capital of an independent Uruguay. The city's more recent history has seen it besieged by Argentinean dictator Juan Manuel de Rosas on two occasions, and endure the Battle of the River Plate between German and British naval ships at the start of World War II.
Today Montevideo is one of Latin America's most vibrant cities, popular with holidaymakers because of its miles of beaches and its shabby sophistication. One traveller has aptly described the city as feeling like 'Boston with a touch of Lisbon'. Visitors and locals can browse the enticing Mercado de los Artesanos for leather goods, hand-knitted sweaters and other tempting crafts; stroll the Rambla along the waterfront, where there are superb views and there is always a whole lot of activity; dine on mouth-watering grilled steaks or perfect paella in the restaurants of Mercado del Puerto; and end the day with a tantalising tango at one of the numerous night clubs.
Become our Montevideo Travel Expert
We are looking for contributors for our Montevideo travel guide. If you are a local, a regular traveller to Montevideo or a travel professional with time to contribute and answer occasional forum questions, please contact us.
Intrepid Travel is one of the world's leading suppliers of small group adventures focused on getting off the beaten track and having real life experiences in Uruguay.
ADVERTISEMENT
---