Caracas Travel Guide
Why? A holiday in Caracas is a rather daunting experience as this is a chaotic, polluted and intimidating concrete jungle, seething with humanity. Those who are brave enough to travel to Caracas are rewarded with a chance to get a true perspective of Venezuela by exploring its capital city, and there are more than enough sights to fill a holiday. For relief from the crowded city it is possible to make pleasant excursions by cable-car up the Avila Mountain that overshadows the city.
When? Caracas has a tropical climate that is moderated by its altitude, therefore it is warm and sunny all year round, so any time is a good time for a Caracas holiday.
Who for? A holiday in Caracas is for the intrepid traveller who is not averse to putting up with squalid conditions and the threat of crime in order to discover the nitty gritty on one of the world's most populated metropolises.
More Info: The more you know before you go on a Caracas holiday the better you will be able to deal with conditions in this human ant-hill. Our comprehensive Caracas travel guide is packed with information about health, safety, public transport and a host of useful facts and figures.
---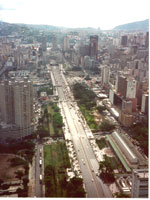 Avenida Bolivar ©
Caracas, capital of Venezuela, hosts the country's international airport and is therefore the gateway for visitors. This immense metropolis, home to nearly five million people, is situated in the north of the country, between the sea and the foot of the Avila Mountain.
It began as a Spanish colonial settlement, founded by Diego de Losada more than 400 years ago, its growth burgeoning since the 1970s oil boom. Today the sprawling, untidy city throbs with life, the landscape dominated by high-rise office and apartment buildings, threaded through with knots of motorways and junctions, all against the impressive backdrop of the lush, green mountain.
All sorts of races, cultures and creeds throng the streets of the concrete jungle, which contain gourmet restaurants, bustling shopping precincts, museums, concert halls, fine art galleries and the massive Bellas Artes cultural centre. There is plenty to see, from the 19th century neo-Gothic Santa Capilla church, the birthplace of Simon Bolivar, to the palace of Joaquin Crespo, and the Sofia Imber Museum of Contemporary Art (with works by Matisse, Picasso and Chagall as well as Venezuelan artists).
Those who need a break from the relentless urban energy can slip away for a hike on the nearby mountain slopes, or take a day trip to the surprising Bavarian-inspired town of La Colonia Tovar.
Become our Caracas Travel Expert
We are looking for contributors for our Caracas travel guide. If you are a local, a regular traveller to Caracas or a travel professional with time to contribute and answer occasional forum questions, please contact us.