Melbourne Travel Guide
Why? It is often marketed as Australia's sophisticated 'culture capital', but in fact a holiday in Melbourne will reveal there is plenty more to do and see other than art galleries and theatre. Travel to Melbourne for a leisurely break, enjoying the many parks and recreational facilities, stroll along the St Kilda Esplanade, explore the river-front Southgate development, or watch an exciting Aussie Rules Football match.
When? Peak seasons for holidays in Melbourne are dictated more by events than the weather, so it is wise to check what's on and book accommodation early to avoid disappointment. Busy times are late October when the Spring Racing Carnival and International Festival take place, early March for the Formula 1 Grand Prix, and late January during the Australian Tennis Open. Weather-wise it is best not to travel to Melbourne in winter, when it is dull and grey. The best season to holiday in Melbourne is autumn (March to May).
Who for? A holiday in Melbourne is for anyone and everyone. The city has something to offer all ages and stages.
More Info: Before you travel to Melbourne familiarise yourself with all aspects of the city using our Melbourne travel guide, which is updated regularly and can be printed or emailed for convenience.
---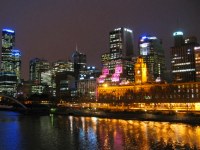 Yarra River and Melbourne Skyline ©
Australia's second-largest city, Melbourne, capital of Victoria, is the most European in style with trams rattling through streets past Victorian buildings, parks and outdoor cafes. The city centre is laid out in a simple grid pattern, the long, wide north-south streets gently sloping down to the Yarra River, crossed by a mix of narrow lanes, and the main shopping streets such as Bourke and Collins Streets. The CBD is easily navigable by foot, and if a rest is needed after a session of sightseeing or shopping there are numerous parks nearby, such as the Royal Botanical Gardens, Fitzroy Gardens and Carlton Gardens. Alternatively, you can take one of Melbourne's signature attractions, a tram. The burgundy-coloured City Circle tram is free, and is a good way to get your bearings as well as explore the inner city, while for those wanting to go further afield the tram network extends about 10 miles (15km) into the Melbourne suburbs.
Melbourne's population of over three million is made up of a variety of cultures, including Chinese, Italian, Vietnamese, Lebanese and Greek, who have all added their touch to this thriving city. A fierce rivalry exists between the cities of Melbourne and Sydney, but local residents bask in the satisfying knowledge that Melbourne beats Sydney hands-down on the cultural front, noted for its wide variety of high standard performing arts, as well as its sport. The city plays host to world-renowned sporting events like the Melbourne Cup, Australian Open Tennis and Qantas Australia Grand Prix. Around the city, within an hour's drive, there are numerous places worth visiting, including the Macedon Ranges, which is Australia's spa capital with its world-renowned mineral springs, as well as the spectacular Great Ocean Road along the coast, which passes stunning rock formations such as the Twelve Apostles. One of the most popular self-drive routes for tourists to follow is the circular Great Southern Touring Route, which includes spectacular scenery and takes in some of Victoria's most beautiful, scenic and cultural attractions.
Become our Melbourne Travel Expert
We are looking for contributors for our Melbourne travel guide. If you are a local, a regular traveller to Melbourne or a travel professional with time to contribute and answer occasional forum questions, please contact us.