Phillip Island And Gippsland Travel Guide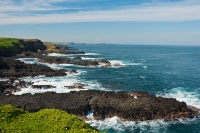 Coastline, Phillip Island © JenniKate Wallace
Gippsland is a large, rural region of Victoria, between Melbourne and the border with New South Wales. The region is scenically splendid and a popular getaway from the city of Melbourne, with lakes, forests, dramatic coastline and historic towns to lure travellers. Gippsland is the place to head for an experience of Victoria's unspoiled wilderness areas, perfect for a peaceful and invigorating break from the urban attractions of cosmopolitan Melbourne. It is also gourmet country, filled with cheese-makers, wineries, fruit farms and markets. There are more than 100 vineyards and about 40 wineries in the region, providing a wealth of fine wine to sample in-between adventurous activities.
Phillip Island, just offshore, offers the chance to experience being up close and personal with a variety of wildlife, including fairy penguins, fur seals and koala bears. The island also has several outstanding dive sites, and is surrounded by some of the best surfing and swimming beaches in Victoria.
Visitors to Gippsland stay in the small alpine towns and seaside villages of the region. Popular travel bases include Walhalla, Port Albert, Mt Baw Baw, Paynesville, Metung and Mallacoota.
Become our Phillip Island And Gippsland Travel Expert
We are looking for contributors for our Phillip Island And Gippsland travel guide. If you are a local, a regular traveller to Phillip Island And Gippsland or a travel professional with time to contribute and answer occasional forum questions, please contact us.