Aberystwyth Travel Guide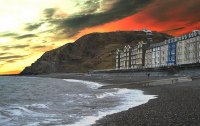 Aberystwyth © gothicnexus
The tiny seaside town of Aberystwyth in Northern Wales is the historical heart of Wales and the birthplace of the Welsh language, but it really knows how to have a good time. It is home to the University of Wales and its 10,000 students, who take full advantage of Aberystwyth's 60 pubs and bars, as well as its restaurants and shops. The students bring energy and fun to the town, which is affectionately known simply as Aber. Aberystwyth is quite isolated by UK standards, but Swansea is only 70 miles (110km) to the south, and the popularity of the town as a holiday resort, as well as the population of foreign students, ensures that it is easily accessible by rail and bus.
Aberystwyth is prettily situated near the confluence of the rivers Ystwyth and Rheidol, on the west coast of Wales. The town has beautiful views over Cardigan Bay and a lovely long promenade, with two stretches of beach divided by the castle. Historical sites like the ruins of Aberystwyth Castle and Constitution Hill provide pleasant vistas and are interesting attractions in their own right. The town is modern in appearance, but still boasts some historic buildings and many wonderful cultural attractions. Aberystwyth also offers active pursuits like watersports, hiking, boat trips and a steam railway.
Become our Aberystwyth Travel Expert
We are looking for contributors for our Aberystwyth travel guide. If you are a local, a regular traveller to Aberystwyth or a travel professional with time to contribute and answer occasional forum questions, please contact us.