Holyhead Travel Guide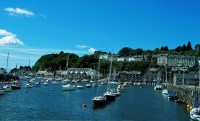 Holyhead © tuppus
Holyhead, located on the northwest side of tiny Holy Island near Anglesey, is a picturesque little town with wonderful rugged terrain and fantastic views created by the rocky coastline. Holyhead Mountain is the highest point, and its summit provides panoramic views that extend to Ireland, the Isle of Man, and Cumbria.
Holyhead has long been an important link between Wales and Ireland, and its port is busy with ferry traffic to Dublin. The town itself is built around several historic sites, including the prehistoric hillfort Mynydd y Twr, the Roman fort of Caer Gybi, and the 6th century St Cybi's Church, which is built inside a Roman fort.
Holyhead itself is a vibrant town of about 12,000 residents, boasting a number of shops and restaurants, a maritime museum, and the Canolfan Ucheldre Centre, which functions as the artistic and cultural heart of Holy Island.
Sailing, powerboating and fishing are popular activities in this marine-minded town, and the sandy beaches of Porth Trwyn, Borth Wen, and Porth Tywn Mawr are popular for watersports. Meanwhile, there are plenty of activities in Holyhead to keep active types busy, including golf, horseback riding, hiking, wildlife-spotting and catching a local football match.
One of the most important things to know about Holyhead is that it's pronounced Holly-head. There's no quicker way to give yourself away as a tourist than by pronouncing it wrong!
Become our Holyhead Travel Expert
We are looking for contributors for our Holyhead travel guide. If you are a local, a regular traveller to Holyhead or a travel professional with time to contribute and answer occasional forum questions, please contact us.