United States of America

---

---

---

---
Seattle Travel Guide
Why? The weather may not always be the best, but a holiday in Seattle is just as good indoors as out, with a host of activity options on the menu all year round, from ballet to boating. This watery city points its landmark Space Needle at the stars but is firmly anchored in its lakeland setting which provides plenty of waterfront attractions to complement its trendy high-rise profile.
When? When you travel to Seattle you are just as likely to get your head wet as your feet, for not only is the city surrounded by water but plenty falls from the sky as well. The driest months, and thus the best time to holiday in Seattle, are between June and August, when temperatures are also the most congenial.
Who for? Outdoorsy sophisticates with a taste for the good things in life will enjoy soaking up the atmosphere of this gleaming city on a holiday in Seattle.
More Info: Find out what to do and where to go, and how to get around, when you head off for a Seattle holiday by using our detailed Seattle travel guide which contains information about attractions, events and excursions available in the city.
---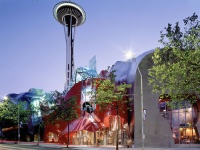 The Seattle Space Needle © Go Card USA
Seattle is known as the 'Emerald City', and just like the home of the Wizard of Oz in the fairy tale, it is a magical place. Rated as one of the world's most liveable cities, after Melbourne and Montreal, it boasts among its citizens three out of the world's ten richest men, including Bill Gates, head of the mighty Microsoft Empire. The city's emergence as a trend-setting and fashionable metropolis with sky-high property prices has occurred in less than 200 years, since it was founded in 1869.
Sitting at the extremity of the United States' northwest, at the gateway to Canada, Seattle reaches for the sky with its landmark soaring 'space needle', built in the 1960s, a modern monument that epitomises the city's image as a high-tech, dynamic and young community.
Seattle is not a place that fosters couch potatoes. Visitors and locals alike revel in the outdoor activities the city's situation provides for. Seattle sits on the shores of two large lakes and Puget Sound, with remote wilderness less than an hour away, and it is flanked by two major mountain ranges (Olympics and Cascades), with Mount Rainier in full view from the city. It is also within easy reach of the San Juan Islands, Pacific Ocean beaches and major rivers.
This active city lends itself to walking tours, particularly around the two main tourist areas, the waterfront and Pike Place Market. In addition, 80 percent of the city limits are surrounded by water, so tour boats also abound. To fully enjoy Seattle be prepared to go boating, and bring a comfortable pair of shoes.
Become our Seattle Travel Expert
We are looking for contributors for our Seattle travel guide. If you are a local, a regular traveller to Seattle or a travel professional with time to contribute and answer occasional forum questions, please contact us.