Perth Travel Guide
Why? Sunbathe, indulge in some wine tasting, shop for pearls, wander the waterfront of Fremantle, or visit the fun-fair. These are just some of the many diversions that draw people to enjoy a holiday in Perth, Australia's laid-back, remote western city, which is surrounded by some stunning scenery.
When? Unless you really like it hot, the best times to travel to Perth are during spring (September to November) and autumn (March to May). Summers are extremely hot and dry, and winters wet and mild. Each season in Western Australia, though, offers something special that draws visitors to holiday in Perth, like the explosion of wild flowers in spring, and the whale-watching opportunities during autumn. Even winter is delightful when the countryside turns lush and green.
Who for? Anyone and everyone will find plenty to do and see on a holiday in Perth. The city is packed with attractions to suit everyone, especially food-lovers, who will find more restaurants here per capita than in any other Australian city.
More Info: If you are planning a holiday in Perth make use of our Perth travel guide to find out all you need to know to make the best use of your time in this scenic city. The Perth travel guide features full details of attractions, excursions and events and is updated regularly.
---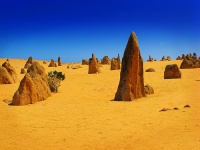 The Pinnacles © Stygiangloom
Most of the two million people who live in Western Australia reside in the sophisticated and scenic state capital. Perth grew on the banks of the Swan River, named after the Scottish city of the same name, and was proclaimed by Queen Victoria as a city in 1856. The discovery of gold in Kalgoorlie and Coolgardie, to the east of the city, in the 1890s led to a dramatic rise in its population and an economic boom. Another boom followed in the 1960s with the mining profits of iron ore and nickel.
Today the city is characterised by numerous waterways, green parks and a compact central business district. There is plenty to occupy visitors in Perth, from touring the city by tram or bus, enjoying watersports on the Swan River or just sipping a glass of the famous local wine in a riverside or beachside restaurant. Perth has more restaurants per capita than any other Australian city. Not far from the city is Western Australia's oldest wine-growing region, Swan Valley, which welcomes tourists to visit the many award-winning family-owned wineries, which offer alfresco and restaurant meals and cellar tastings.
Perth is also the site of the world's oldest operating mint, and boasts several museums and art galleries, historic buildings, a casino and a good variety of shopping opportunities. Last, but not least, the city offers more than 50 miles (80km) of white sandy beaches in close proximity. Among the most popular are Cottesloe and Scarborough.
Become our Perth Travel Expert
We are looking for contributors for our Perth travel guide. If you are a local, a regular traveller to Perth or a travel professional with time to contribute and answer occasional forum questions, please contact us.