Whitehorse Travel Guide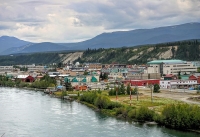 Whitehorse on the Yukon River © Gareth Sloan
Whitehorse, capital of the Yukon and Canada's most westerly city, offers all the amenities of a major city but retains a small-town personality. Situated on the banks of the Yukon River, it was established as a handy trans-shipment point during the Klondike gold rush in 1898, when gold prospectors arriving from Skagway would board riverboats bound for the goldfields. Today its central position halfway between Dawson Creek, British Columbia and Fairbanks, Alaska, on the historic Alaskan Highway, is convenient for visitors exploring the region.
The Yukon Visitor Reception Centre is a good place to start exploring the province: an information film, As the Crow Flies, is screened every half hour, and maps and suggestions for tours and activities are available. The main attraction in Whitehorse is the restored river steamer, SS Klondike, moored on the bank of the Yukon River, which ferried passengers north to Dawson City. Tours of the steamer inform visitors about the history of the gold rush, the Yukon River and the First Nations people. The MacBride Museum houses exhibits on a range of local topics, including a Klondike gold exhibition, in a complex of log buildings. Other attractions include the four-story log skyscraper, one of the most photographed buildings in Whitehorse; and Miles Canyon, from where the city's name originated: its rapids were likened to the manes of charging white horses.
Another popular Whitehorse attraction is the lively vaudeville show, the Frantic Follies, which takes to the stage every night in summer with music, can-can, skits and songs reminiscent of the Klondike days.
Become our Whitehorse Travel Expert
We are looking for contributors for our Whitehorse travel guide. If you are a local, a regular traveller to Whitehorse or a travel professional with time to contribute and answer occasional forum questions, please contact us.