Lao New Year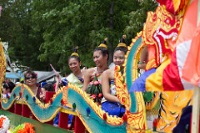 Lao New Year © Sam Sith
Lao New Year is known as Pi Mai or Songkran and is the biggest and most exuberant celebration of the year for both Laotians and tourists, who invariably get roped into the festivities. New Year takes place on the cusp of the monsoon season during the hottest time of the year.
In a bid to invoke the rain and to cool off from the heat, water is thrown, sprayed, tossed, and fired at everyone for the three days of the festival. Expect to get wet frequently! These water fights are great fun, very good-natured, and the most popular aspect of the festival for visitors, particularly as the heat is oppressive at this time of year (April).
Drenching somebody in water is a way of wishing them good fortune for the New Year, while it's common for cream and powder to also feature in the water fights. Flowers are used to decorate Buddhas and there is a tradition of setting animals free during this festival. It is also important to the Lao people that homes are ritually cleaned during the festival.
Although many people spend their days at worship in the temples, there is a lot of singing, dancing, and celebrating to be enjoyed at night. Beauty pageants are also held around the country, with Luang Prabang hosting the biggest.
Date: 14 - 16 April 2019