City of Lights Jazz and R&B Festival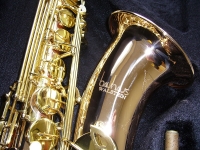 Bauhaus Walstein Saxaphone © Tom Oates
The annual Las Vegas City of Lights Jazz and R&B Festival takes place at the Clark County Government Amphitheater, where festivalgoers can enjoy getting out into the Nevada heat to listen to some good old rhythm and blues.
Those looking for a good time should pack a camping chair, their sun hat, some snacks, and refreshments, and head on down to see live acts such as Will Downing, Euge Groove, Karen Briggs' Soulchestra, and Fattburger. Craft and food stalls are also available. For a full programme and more details, check out the official website listed below.
Venue: Clark county Government Amphitheater.
Date: 18 - 19 April 2020
Website: www.yourjazz.com