Fete de la Musique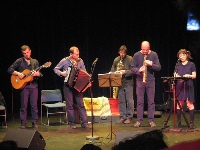 Fete de la Musique © nilujeperchut
Originally an idea conceived in France, the Fête de la Musique festival (also known as World Music Day) is now celebrated in about 100 countries around the world on the same day. Cebu has one of the biggest and best of these musical meetings, with about 150 bands of different musical genres pounding it out simultaneously on seven different stages in one venue on a single night.
The music itself is a cocktail of everything of the best from jazz and rock, blues and alternative to electronic, reggae and ethnic percussion. A number of free and festive street parties and concerts occur on the day annually, making it a fun period in which to visit Cebu. The venues change every year and details can be found on the official website listed below. The music is commonly accompanied by all sorts of cultural festivities, often with a notably French influence, in tribute to the origins of the festival.
The Filipinos bring their own special flavour to the event, however, and travellers will be able to experience traditional island music as well as more commercial, mainstream entertainment. The Fete de la Musique festival is a big party as well as a celebration of different music genres and the locals are very welcoming of foreign guests.
Venue: A Space Manila, 110 Legazpi Street, Makati, Manila
Date: 21 June 2017