Splashy Fen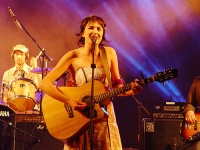 Harris Tweed performing at Splashy Fen © Damien du Toit
The largest music festival in KwaZulu-Natal, and one of South Africa's most popular, Splashy Fen takes place on a scenic farm in the Drakensberg Mountains every year over Easter weekend in April.
The festival has grown over 20 years to welcome more than 10,000 people to see more than 70 acts ranging from jazz, folk, and blues, to rock, electronic, and traditional African music. Splashy Fen Farm is roughly a three-hour drive from Durban and, while there's little accommodation, music enthusiasts create massive tented cities that are an attraction in themselves.
The festival is kid-friendly and offers activities like swimming, tubing, mountain biking, hiking, and even helicopter rides to accompany the music. Facilities include an arts and crafts market, ATMs, numerous bars, and a beer garden, a children's entertainment area, a creche, hot showers, and numerous food stalls.
The music is of a very high quality. Tickets are available from Computicket or at the gate, with the price increasing closer to the event.
Venue: Splashy Fen Farm.
Date: 9-13 April 2020
Website: www.splashyfen.co.za