Dusi Canoe Marathon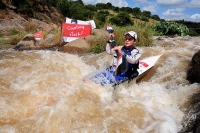 Dusi Marathon © Mattpbarry
The Dusi Canoe Marathon runs from Pietermaritzburg to Durban every February, and has been lauded as one of the world's most prestigious canoe races. The race has been going for over 60 years, and now attracts more than 2,000 participants from all over the world. In the first year it was held, when it was a non-stop race, famous conservationist, Ian Player, was the only participant to complete the route, though seven others started it with him.
The race starts in the Valley of 1000 Hills at the intersection of the Umgeni and Msunduzi Rivers, and runs for three days, ending at the mouth of the river in Durban, with beautiful views of the Indian Ocean. The Dusi is renowned as a fun race for participants, but it is also a great event for the many spectators who set up camp at various scenic and challenging points on the river to watch the thrills and spills. The most popular spectator points are listed on the website and are worth noting.
The Dusi now attracts well over 10,000 people and seems to be growing every year. Those interested in registering for the race can do so on the event's official website, where details about accommodation and the like can also be found.
Venue: Msunduzi River
Date: 5 - 7 March 2020
Website: www.dusi.co.za