Angkor Wat International Half Marathon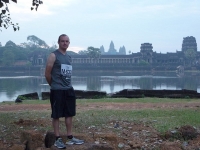 Angkor Wat Half Marathon © ronan crowley
The Angkor International Half Marathon attracts more than 8,000 runners annually, with nearly 78 countries represented in recent years. This 21km race through the magnificent Angkor temples has become increasingly popular.
All funds raised are devoted to victims of landmine explosions and a number of other pressing issues in Cambodia including the education and prevention of HIV Aids. There is also an Angkor bike race which has three categories: the 100km race, the 30km race, and a fun family race event.
The bike race usually takes place the day before the marathon. Participants can also choose to attend a number of related celebrations and events including a Gala Dinner Party at the Prasat Bei Temple which includes a traditional dance show.
Venue: Krong Siem Reap
Date: 6 December 2020
Website: worldsmarathons.com/marathon/angkor-wat-international-half-marathon