Water and Moon Festival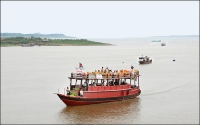 Boats on the Tonle Sap, Cambodia © Jean-Pierre Dalbera
The Water Festival or Bon Om Touk is Cambodia's Mardi Gras and Carnival rolled into one. The traditional festival is an exuberant celebration marked by three days of boat races and partying on the southern end of the Tonle Sap, and indeed all over Cambodia.
The three-day festival is the biggest and most spectacular event on the Cambodian calendar. Both locals and tourists flock from far and wide to the capital, Phnom Penh, and other hot spots to enjoy the pageantry, partying, fireworks, and boat races.
Although smaller than the mammoth celebrations in the capital, festivities, and races also happen in Siem Reap, near Angkor Wat. The festival heralds the start of the fishing season and coincides with the reversal of the current in the Tonle Sap River, which flows uphill for half the year.
Illuminated floats, celebrations of the full moon, and various feasts support the boat races. Rowing has a rich history in Cambodia as it was a vital component of the ancient Khmer civilization's military prowess. Hundreds of boats compete in this annual festival, decorated with the traditional dragon heads, and each bearing up to 40 rowers. The racing of the pirogue boats is fast, loud, and energetic and the atmosphere at the event is jubilant and celebratory, making the Water and Moon festival one of the most popular times to visit Cambodia.
Travellers should note that in recent years this event has sometimes been cancelled due to low water levels or political tension.
Date: 10 - 12 November 2020