Ayia Napa International Festival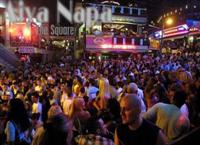 One of biggest and most colourful events on the island, the Agia Napa International Festival is a celebration of classical entertainment and traditional Cypriot folk culture. The festival takes place in September each year and is focused on the monastery's Sepheris Square. Along with the concert recitals and dance performances, there are art exhibitions and various craft markets.
The festival usually includes firework displays, orchestras, concerts, dance performances, theatre and numerous art exhibitions. In addition, there is a party atmosphere and craft markets and stalls spring up everywhere. The festival is much loved by local people who see at as an opportunity to showcase and share their traditional culture with international visitors, of which it attracts many; if you are interested in Cypriot culture and enjoy a festive atmosphere then you would do well to time your visit to Cyprus to coincide with this vibrant festival.
Venue: Sepheris Square
Date: 17 October 2015