Moriones Festival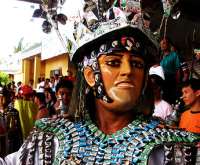 Moriones Festival © Glenda Liza Reginaldo
The Moriones Festival is one of the biggest and most colourful in the Philippines, having run annually since 1807. Beginning on Holy Monday and running through Easter Sunday each year, residents of Marinduque Island dress in costumes and masks to recreate the story of Saint Longinus, a Roman centurion who was blind in one eye. According to legend it was he who pierced Christ's side, and the spurt of blood healed him.
The name of the festival comes from 'marion' meaning 'mask' and during the celebrations it is traditional to dress up like biblical Roman soldiers with carved and painted masks, helmets and colourful tunics. Don't be alarmed if these legionaries chase you carrying spears - it's all part of the fun. The Mariones Festival includes holy masses and other church services, trade fairs, exhibits, parades, processions and theatrical performances.
The main event is the 'Via Crusis' procession along the streets on Good Friday, when the passion and sacrifice of Christ on his route to Calvary and crucifixion is recreated. The re-enactments are all conducted with local flair, and take place all over the island. The festival is a solemn and sacred religious occasion, but it is also a celebration and there's lots of fun to be had.
Venue: Marinduque Island
Date: 10 - 16 April 2017