Sinulog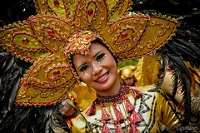 golden smile © Kenneth Gaerlan
The Sinulog festival, held on the third Sunday of January every year, is a melting pot of cultures. It celebrates the vision of the Santo Niño, who was once the patron saint of Cebu City, but now also commemorates the Islamic and pagan origins of the city's inhabitants. It is largely a dance ritual, featuring colourful parades, boat processions, and competitions for puppetry, photography, short films, music and more.
The festival centres around the Basilica Monore del Santo Nino, where the famous idol of Santo Nino, brought to the Philippines by Spanish explorers, is enshrined to this day. The nine-day festival is now one of the region's top tourist drawcards as it is at once a big party and a wonderful way to get to grips with the local culture. The celebrations and cultural events essentially last for the first three weeks of the year, culminating with the big dance parade.
The programme includes: street fairs, with stalls selling food and crafts; a fun run and marathon; music and dance competitions; sporting events; religious services; street parties; a beauty pageant to appoint Miss Cebu; and fireworks displays. For the full Sinulog programme check out the official website listed below.
Date: 20 January 2019
Website: www.sinulog.ph