Reggae Sumfest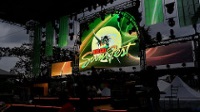 Sumfest Stage © sergio_leenen
For many people Jamaica is synonymous with reggae music. So where better to go to a reggae festival than in the reggae capital of the world? In fact, most of Jamaica's most popular festivals have something to do with their much-loved music tradition. The Reggae Sumfest is held every summer in Montego Bay and attracts the best reggae, ska and dub musicians from across the globe.
The reggae festival is held over three days and is widely viewed as the best reggae festival in the world. There are many famous local performers and international stars. Although not everybody that performs is strictly in the reggae genre, musicians mix it up with reggae influences. Musicians that have performed at the festival in the past include Wyclef Jean, Mary J Blige, Destiny's Child, Rihanna, Alicia Keys, Kanye West, 50 Cent, Snoop Dogg and Missy Elliott and many more.
The Reggae Sumfest is a world-class music festival attended by thousands of people. Some of the events take place on the beach and others in venues around the city. You can find out about the programme and buy tickets on the official website below.
Venue: Montego Bay
Date: 12 - 18 July 2020
Website: www.reggaesumfest.com