Longqing Gorge Ice and Snow Festival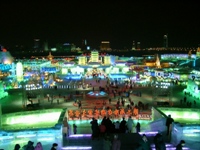 If you are in Beijing between January and March a visit to Longqing Gorge Ice and Snow Festival is a treat. A magical winter wonderland provides a fun day out for locals and tourists alike at the ice spectacle held annually north of Beijing. Try your hand at ice-fishing, tobogganing, ice-slides, skating or one of numerous other ice or snow sports. There is also a human-sized ice maze to get lost in. Looming spectacularly above all the attractions and activities there is a 230 feet (70m) high frozen waterfall. You can finish off the day by simply marveling at the intricately carved ice sculptures and ice lanterns on display, while fireworks turn the icy gorge into a colourful light show. There is something on offer for all age groups and if you are travelling with kids this makes for a thrilling excursion for the whole family. Longqing is under two hours drive from central Beijing so it is possible to visit just for a day, but, as the ice sculptures are at their most beautiful and magical at night, it is recommended that you overnight in the area to enjoy the full experience.
Admission costs about RMB 100 per person.
Venue: Longqing Gorge in Yanqing County, 56 miles (80km) north of Beijing
Date: mid-January to mid-February 2014