Christmas Fair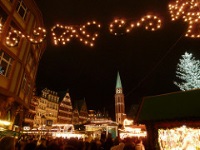 Frankfurt Christmas Market © Bruce Washburn
The Frankfurt Christmas Market is one of the biggest and oldest in Germany, dating back to the 14th century. Traditionally, Germans used to buy all their decorations, seasonal foodstuffs, and children's presents solely from the market.
The entire old town centre transforms into a festive, beautiful marketplace, where the scent of roasted chestnuts, mulled wine, gingerbread, and baked apples mix with the sounds of Christmas tunes in the crisp winter air.
The fair also offers Christmas readings, Advent concerts, and a visit by St Nicholas, as well as plenty of arts and crafts, from creative candles to carved wooden toys, and traditional Frankfurt specialties like apple wine soap, slippers, and traditional tree ornaments. There are usually also plenty of activities and games, or nostalgic amusement park rides on offer.
Venue: Throughout the old city centre, but predominantly at Römerberg
Date: Late November and December 2019