Montana Folk Festival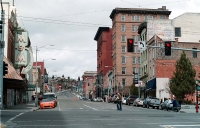 Butte, home of the Montana Folk Festival © WikiCapa
The Montana Folk Festival (formerly the National Folk Festival) is a large outdoor event, held in the old silver mining town of Butte, and featuring performances and demonstrations by over 250 of America's finest musicians, dancers and craftspeople.
Boasting six stages in all - including a dance pavilion dedicated to participatory dancing, a family stage with performances appealing to children of all ages, and a Montana folklife stage - there is bound to be something that caters to every member of the 165,000-strong crowd's taste.
There are also several themed festival areas, such as the Montana Folklife Area, the Family Area, two Festival Market-places and Festival Food Courts. Perhaps the most interesting thing about the Festival, is the electric (though thoroughly, and authentically American) line-up of musicians, who span a wide variety of musical genres, from blues, to sacred steel, to straight-up folk, to New Orleans jazz and even Inuit throat-singing.
Venue: Butte, Montana
Date: 13 - 15 July 2018
Website: www.montanafolkfestival.com