Montana Folk Festival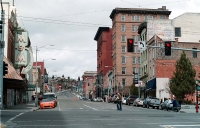 Butte, home of the Montana Folk Festival © WikiCapa
The Montana Folk Festival, formerly the National Folk Festival, is a large outdoor event, held in the old silver mining town of Butte. It features performances by over 250 of America's finest musicians, dancers, and craftspeople.
With six stages in all - including a dance pavilion, a family stage with performances for children of all ages, and a Montana folklife stage - there is bound to be something for every member of the 165,000-strong crowd's taste.
There are also several themed festival areas, such as the Montana Folklife Area, the Family Area, two Festival Market-places, and Festival Food Courts. Perhaps the most interesting thing about the Festival, is the electric line-up of musicians. These include artists spanning a wide variety of musical genres, from blues, to sacred steel, to straight-up folk, to New Orleans jazz and even Inuit throat-singing.
Venue: Butte, Montana
Date: 12 - 14 July 2019
Website: www.montanafolkfestival.com