Wildebeest Migration in Great Rift Valley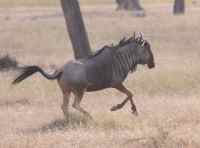 One of Africa's greatest natural spectacles is the annual wildebeest migration between Kenya's Masai Mara and Tanzania's Serengeti national parks. Up to two million wildebeest and hundreds of thousands of zebra and Thomson's gazelles make this ancient journey, seeking greener grasses as the seasons change. The quest for new life is closely linked with death as predators stalk the enormous, ever-moving herds, from lions in the grasslands to crocodiles during the dramatic, frenetic river crossings. The river crossings at the Grumeti River and Mara River are the most popular part of the migration to witness and there are many great camps set up near the rivers in the Mara. A thrilling way to experience the migration is on a riding safari, when your horses can actually wander among the animals, or in a hot air balloon, which gives you breathtaking views. The timing of the migration varies each year and is difficult to predict, although generally June to August is the best time to plan your visit. The herds usually migrate back to the Serengeti in December and January and some visitors like to try and catch the spectacle in reverse, as the animals return to Tanzania.
Venue: Masai Mara (Kenya) and Serengeti (Tanzania) national parks
Date: June, July and August annually.