Malta Carnival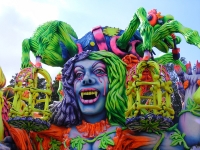 Malta Carnival © Michael
Spring is carnival time in Malta. Carnival week, with its traditional boisterous revelry, centres on the capital Valletta, but cities, towns, and villages across Malta host their own carnival celebrations and sometimes the smaller local festivities are the most authentic and charming.
Carnival includes extravagant, gaudy floats, fancy dress, lots of live music and marching bands, and some wild nightlife in the Paceville club area. The tradition is said to have started in 1560, when a massed Christian armada became harbour-bound in Malta and some jollification ashore ensued.
Carnival is a wonderfully festive time to visit Malta and foreigners are welcomed into the revelry, especially if they embrace the spirit of the event and arrive in outrageous costumes. Children will also enjoy carnival and the parades and floats particularly delight the local kids, who dress up even more enthusiastically than the adult party animals.
Weather-wise, February and March happen to be a good time to visit Malta as it is sunny but not yet swelteringly hot. If you are planning a springtime holiday in Malta, design your itinerary around the carnival. Valletta can get crowded during the festival but not unpleasantly so.
Date: TBC 2020
Website: www.visitmalta.com/carnival