Christmas in Bethlehem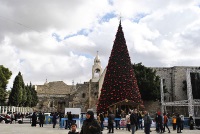 Christmas in Bethlehem © Freedom's Falcon
As the supposed birthplace of Jesus Christ, Bethlehem naturally hosts major Christmas celebrations. Devout pilgrims from around the globe attend, as do curious tourists who happen to be in the area.
Various Christian denominations hold services, including Catholic, Protestant, Greek Orthodox, Armenian and Ethiopian. The streets lie festooned with Christmas lights and decorations, accompanied by nativity plays and a Christmas markets.
Celebrations last for three weeks, as different sects enjoy the occasion on different days. Arabian horses wind through Manger Square, which is a plaza outside the Basilica of the Nativity. It's said to be the site of Jesus's birth.
A cross-carrying horseman follows on a black horse, with clergymen and government officials placing an effigy of the holy child inside the church. Visitors then go down a winding stairwell to discover a silver star marking the birthplace of Christ.
Date: December and January