Rocking The Daisies Music Festival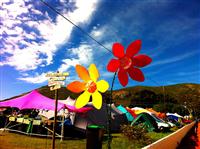 Billing itself as a 'music and lifestyle festival', Rocking the Daisies is one of South Africa's most popular outdoor entertainment events, drawing more than 10,000 people to the charming town of Darling every year. The festival is held on a wine estate, in gorgeous natural surroundings, and distinguishes itself by being the most eco-friendly festival of its kind in southern Africa. In fact, Rocking the Daisies is a 'carbon-neutral festival', with its organisers off-setting whatever emissions they cannot cut by planting trees in nearby disadvantaged communities.
Over and above this green attitude, Rocking the Daisies showcases the very best in established and up-and-coming South African rock music, and always attracts a couple of big-name international acts to really round out the festival line-up. With the added benefits of an impressive selection of food stalls and excellent camping facilities, a trip to the Rocking the Daisies Music Festival makes for a memorable weekend excursion from Cape Town. Anyone interested in attending should book tickets well in advance as the festival always sells out weeks before the event.
Venue: Cloof Wine Estate, outside Darling.
Date: 4 - 6 October 2019
Website: rockingthedaisies.com