Budapest Spring Festival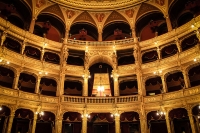 Hungarian State Opera House © Pank Seelen
What began as a city-centred cultural event in 1981 has now spread its wings and grown to become a nationwide celebration of Hungarian culture and talent, drawing thousands of appreciative classical, opera, and jazz fans from all over Europe.
The Academy of Music and Budapest Convention Centre play host to most of the classical concerts on the programme, opening with the National Philharmonic Orchestra and Choir rendering Wagner and Berlioz. The city resounds with chamber music recitals and church concerts, while opera buffs feast at the State Opera House.
Other Hungarian towns and cities where the festival concerts and events are held include Sopron, Szombathely, Pecs, and Szentendre. The Spring Festival is Hungary's most prestigious arts festival and attracts about 40,000 visitors to Budapest a year. Tickets are available about four months before the event. Check the official website for details on the programme, venues, and ticket availability.
Venue: Various
Date: TBC 2020
Website: visitbudapest.travel/budapest-events/budapest-spring-festival