Intertrust Cayman Islands Marathon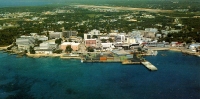 George Town, Cayman Islands © Roger Wollstadt
The Intertrust Cayman Islands Marathon gives runners the opportunity to race on a beautiful, fast, and flat course. There's one loop for half marathoners and two for the marathoners. The option to extend the trip into a relaxing post-marathon island holiday is also available.
The race has plenty of special touches and freebies such as greeters at the airport, free shuttle services to and from the start and finish, and more. It also operates as a qualifier for those aiming to compete in the prestigious Boston Marathon the following year.
Local crowd support for the races is inspiring, with people crowding onto sidewalks to cheer. With the early start, runners avoid the worst of the day's heat and have the opportunity to set off under the clear starry skies, watching the sunrise as the run continues.
Date: 6 December 2020
Website: www.caymanislandsmarathon.com