Sao Paulo Carnival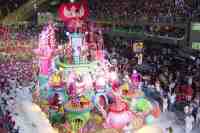 Samba Parade, Sao Paulo © Alan Betensley
Although Sao Paulo's carnival is less famous than Rio's version, travellers will still be enthralled by the glittering, colourful, riotous fun of a city-wide party, and may even find that the comparative lack of tourists makes the festival seem more authentic. Tickets are also significantly cheaper and easier to come by in Sao Paulo.
The main parades of the carnival (called blocos) make their way down Avenue Paulista, and the samba school competitions that form the backbone of the festival programme are held in the Sambodromo, which accommodates up to 30,000 people. As elsewhere in Brazil, the residents of Sao Paulo dress up in vibrant costumes to celebrate carnival.
Venue: Sambodromo and Avenue Paulista are central to the festivities.
Date: 11 February 2018