Tango Festival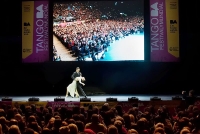 Tango Festival © Virginia Innocenti
The sultry tango, a combination of African drum beats and stylised steps from Europe and Cuba, was born in the brothels of Buenos Aires. The name is believed to derive from one of the languages of the Congo, and over the years, the dance style has become an indelible part of Argentinian culture. The tango is celebrated in fine style throughout the city for two weeks during the annual Tango Festival. Visitors and locals, experts and beginners, all swirl and twirl in legendary Corrientes Avenue and the numerous milonga portena dance salons.
More than 400,000 people attend the festival, and it is billed as the world's largest tango extravaganza. The entire city comes alive with the sounds of traditional tango music for the duration of the festival, where visitors can enjoy demonstrations and free lessons as well as plenty of music performed in concerts by soloists and orchestras. In addition to the dancing, the festival offers a wide variety of craft and food stalls spread throughout the streets of Buenos Aires.
The festival is immediately followed by the World Tango Championships, so those visitors who haven't had enough dancing can stay on to watch the experts battle it out for the top spot in the Dance World Cup. The Tango Festival is an ideal time to explore Buenos Aires and see the city at its best.
Venue: Various
Date: TBC 2020
Website: www.wander-argentina.com/buenos-aires-tango-festival/