Keukenhof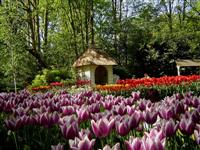 Keukenhof flowers in bloom © Targeman
Keukenhof is regarded as one of the world's largest gardens (32-hectares) and often said to be the most beautiful spring garden in the world. Also known as the Garden of Europe, it bursts with colour during the eight week spring season. More than seven million tulips, daffodils, and hyacinths fill the extensive grounds with colour and fragrance, attracting some 800,000 visitors to its flowery ramparts every year.
Keukenhof is divided into themed gardens, sculpture routes, and various exhibitions, while numerous pavilions feature flower and plant shows for keen gardeners and flower arrangers. There are many cafes and restaurants for refreshments as well as souvenir stands and flower shops selling bulbs and seeds. It's also wonderful to take a cycling excursion or a boat trip from Keukenhof to explore the bulb fields surrounding the garden.
Keukenhof is one of the best reasons to visit the Netherlands in spring and one of the country's greatest attractions. It is best to allow at least a few hours to explore the park and enjoy the many events, displays, and performances on offer.
Venue: The Keukenhof is located in the bulb-growing area between Amsterdam and The Hague.
Date: 21 March - 19 May 2019
Website: www.keukenhof.nl