Dragon Boat Festival (Tuen Ng)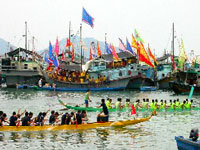 The Dragon Boat festival commemorates the death of a national hero, Qu Yuan, who drowned himself in protest against the corrupt rulers of the 3rd century. Legend has it that the villagers threw rice dumplings into the river and beat drums to scare the fish away from his body in an attempt to rescue him. There are many variations of this myth but the main festival activities today bring to mind the event, as rice dumplings are eaten and teams of local and international racers compete in fast and furious dragon boat races to the pounding of drums, as well as competing in various other water-based activities. The elaborately carved, brightly painted dragon boats are the highlight of the festivities, combining heritage, sport and spectacle. It has become quite a prestigious sporting event and teams come from foreign countries and clubs to compete; recently the event attracted nearly 5,000 athletes, representing 180 clubs and 20 countries. The Dragon Boat Festival is also a huge party and the Victoria Harbour event attracts around 400,000 spectators all intent on a good time. The festivities in Victoria Harbour are the main event in Hong Kong, but the festival is celebrated all over China and some races are held in rivers in the New Territories as well.
Venue: Victoria Harbour and other venues in the New Territories.
Date: 20 June 2015
Website: www.discoverhongkong.com